Beyond the Boardroom: Farnsworth Group's Greg Cook | Entrepreneurs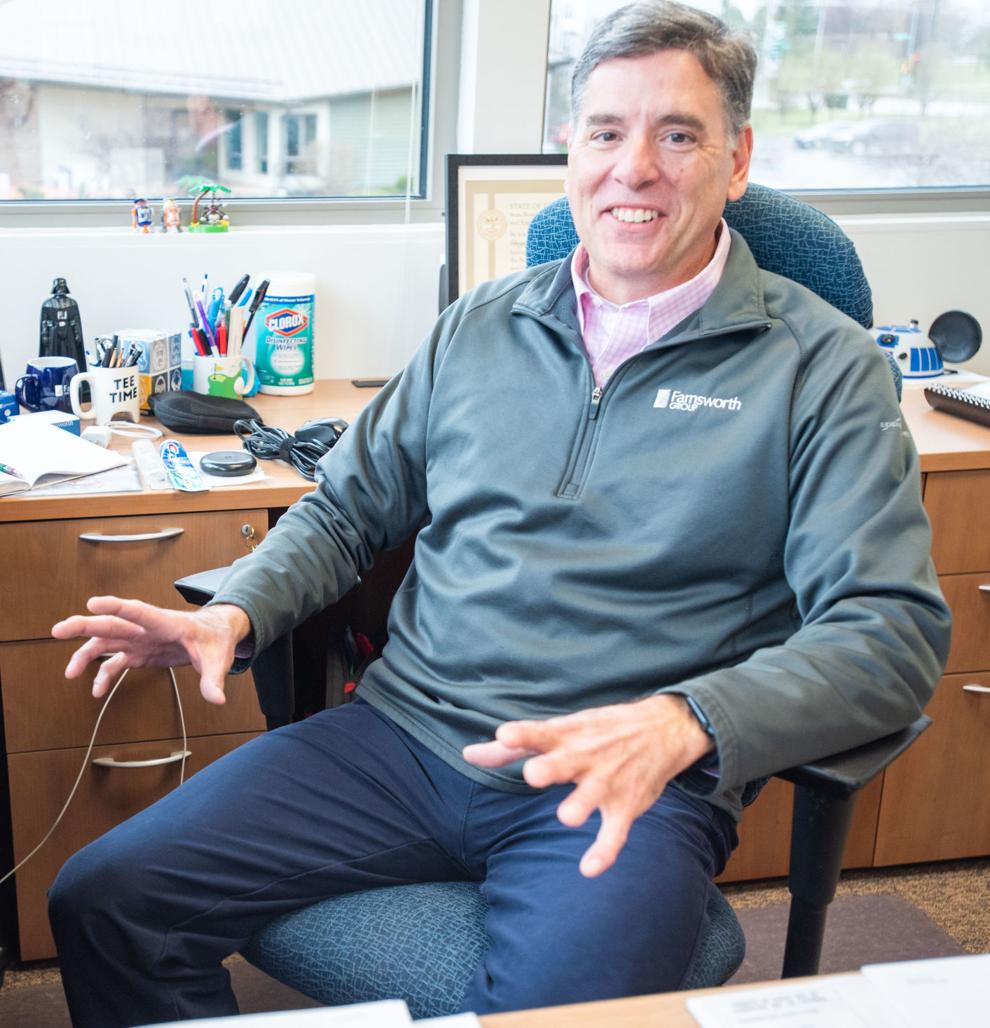 As far as GREG COOK is concerned, it was an Illinois-born internet entrepreneur who summed up the hard part of leadership best.
"Giving your best to others 100 percent of the time" is a challenge for any boss, Cook has come to learn. "I am going to borrow a quote from Nicolas Cole: 'True leadership is the ability to communicate with and effectively reach each and every person you work with, in the way that works best for each of them.'
"The people that I work with, internally and externally, are the most important part of my job. As a leader, I strive to give my best every day because my colleagues and clients deserve it. Some days, this is much easier than others. However, I continue to try to be that leader every day and live up to Nicolas' idea of true leadership."
The son of an Army man, Cook is the principal at the Champaign office of engineering and architecture giant Farnsworth Group. After moving around frequently as a kid — with extended stays in Fort Campbell, Ky., Clarksville, Tenn. and Nurnberg, Germany — he's settled in here since arriving in 1997.
Cook took time to answer questions from Editor Jeff D'Alessio in the 122nd installment of our weekly speed read spotlighting leaders of organizations big and small.
---
The last luxury in which I indulged was … my purchases at the Ryder Cup last September. I was fortunate to be a volunteer at last year's Ryder Cup at Whistling Straits in Wisconsin and had access to the gift shop for six straight days.
I think that I am outfitted with golf gear for the rest of my life based on how much merchandise I purchased. And the official outfitter for the Ryder Cup is Ralph Lauren Polo, which is not very affordable.
If you see somebody who looks like a Ryder Cup commercial, it is probably me.
My single favorite moment of all-time in this job was … winning the Phase III construction engineering services for the Illinois Department of Transportation District 5 I-57/I-74 Interchange Reconstruction Project.
Our team tracked that project for more than eight years and put together a statement of interest for the project. It was awesome to see the hard work pay off with a win.
The interchange is such an integral part of the Champaign-Urbana area and has needed replacement for many years. Knowing that our team is going to be a part of this transformative project for our region is amazing.
I can't live without my … radio. That is a 1985 LL Cool J reference, by the way, for the youngsters out there. In all seriousness, I would say my phone and earbuds. I am a big music fan, and it has been a constant in my life. Not sure what I would do without music.
My philosophy on meetings is … they are important to keep the lines of communication open. Farnsworth Group is a projects-based organization and effective communication is paramount to successful delivery of our projects for our clients.
I think that meetings should be limited to one hour or less depending on the items on the agenda. If the meeting is projected to take longer than one hour, the agenda should be divided into smaller subcategories and additional meetings should be set up. Invitees should be limited to those who can provide input on the agenda items.
Three adjectives I hope my employees would use to describe me are … fun, thoughtful and reliable.
On my office walls, you'll find … my diplomas; a few awards from professional organizations; Farnsworth's core values, mission statement and commitment to safety; and a rendering of a golf hole from a "design a hole" golf contest I won in 1996.
When it comes to frugality … this is a major area for personal improvement. I am getting better, however.
If I could trade places for a week with any other business person in town, I wouldn't mind switching with … Shad Khan, of Flex-N-Gate Corporation and the Jacksonville Jaguars organization. I love business and sports. Having a glimpse from Mr. Khan's perspective would likely provide me with several insights to better myself as a leader and business person.
My one unbreakable rule of the workplace is … be honest and kind in every interaction.
I wind down after work by … hanging with my daughter, taking a long walk in the neighborhood, finding a good game on TV, hitting the links and finding a good fishing hole.
The most beneficial college class I took was … a writing class as a sophomore at Middle Tennessee State. Although it may seem odd that an engineer would answer this question with a writing class, the tools that I learned in that class had a profound impact on my ability to write well.
I believe that the skills learned in that class have served me well so far in my career and provided a solid foundation for communicating effectively with others.
I'm up and at 'em every day by … 5:30 to 6 a.m. to get my exercise in. I do not like mornings, by the way, and I would be lying if I said it's not a struggle some days.
My March exercise routine was … seven days a week. It was my personal challenge for March — five days a week on the stairmaster, 30 minutes per workout, and two days lifting weights.
I'm back to six days a week with Friday as my rest day in April. I really turned the corner after my 50th birthday and decided to really commit to exercising regularly.
The worst job I ever had was as a … fry cook at Western Sizzlin' Steakhouse. I was 16 years old. Food service is tough — the pace is fast, the kitchen is hot, there were plenty of late hours, several burns from the hot oil and tons of pressure to make sure that the food goes out to the satisfaction of the customers.
On a 1-to-10 scale, the impact of the pandemic has been a … 9. The pandemic has changed us forever — masks, sign-in sheets at the entrance, wellness checks, working from home, teams meetings, mostly empty offices, hybrid work models, etc.
What about the mental fatigue that all of us faced dealing with the unknowns presented by the pandemic? This is a real factor. Regardless of how strong you are mentally, the pandemic likely had a profound impact on your personal and professional life.
My hope is that we can take as much of the good that came from the pandemic and use it to become stronger for the future. Farnsworth is returning to work in early April. It will be wonderful to return to our new normal.
However, I cannot imagine a workplace in the future that does not have some remnants of the pandemic.