Daily Digest | Illini show interest in Temple guard; Where Curbelo ranks among transfers
There's a lot of news each day. Illini Inquirer will try to make it easier to digest each weekday morning with the Daily Digest.
*****
Illinois sophomore guard Andre Curbelo entered the transfer portal on Monday, the Illini sophomore guard announced. A former top-50 recruit, Curbelo averaged 8.5 points, 3.8 assists and 3.6 rebounds in 50 games over two seasons at Illinois, shooting 42.9% from the field and 16.9% from three.
As a freshman, Curbelo earned Big Ten Sixth Man of the Year while emerging as one of the team's best players during the second half of the season. During the final 10 games of the season, Curbelo averaged 12.7 points, 5.6 rebounds and 4.0 assists while shooting 54.9% from the field.

As a sophomore, Curbelo was expected to be the star guard on the team — he and Kofi Cockburn traveled to Big Ten Media Days during the summer —but a severe concussion and a COVID case held him out 14 games in the middle of the season, and he never fully got into a rhythm. He averaged 7.5 pints, 3.2 assists and 3.1 rebounds while shooting just 32.9% from the field. He sat the final 26 minutes of the Illini's second round NCAA Tournament loss to Houston.
Curbelo tweeted: "Illini Nation … where do I begin? Thee past two years have been insane," Curbelo wrote on his social media page. "So many amazing moments and some hard times that we had to battle through. I am so thankful I could be a part of this program. Without my teammates and staff, I wouldn't have been able to accomplish the all of that things that I did personally & that WE did collectively. I'm thankful I was a part of two amazing teams here at The University of Illinois & for the relationships I have made. I'm thankful for all the support from The Orange Krush, you all were my energy and the reason I never stopped pushing. Unfortunately, my time here at the UIUC has come to an end & I have decided to enter the transfer portal. Belo OUT."
What it means: The Illini will have a new-look guard group heading into next season. The good news is they should have talent, though it'll skew young. Underwood is set to bring in top-100 signees Jayden Epps and Sencire Harris. Illinois is also pushing hard for five-star Kentucky decommit Skyy Clark, who is the No. 5 point guard in 2022 class according to the 247Composite. That would make for a very talented backcourt trio, but a very young one. With Curbelo's exit, the Illini are seeking for a starting-caliber transfer guard with experience. They're also interested in adding a big, two-way guard via the portal. Illini guard Brandin Podziemski will have an opportunity to earn a role as well.
Closing thought: Curbelo was a part of many wins in an Illini uniform and was a key reason Illinois won a Big Ten Tournament tile in 2021 — he averaged 11.7 points, 5.0 rebonds and 3.0 assists in those three games — and was a key reason Illinois was able to close out this past season with a share of the Big Ten regular-season title (he had 12 points in a win at Michigan and 14 points in a clinching win over Iowa). Curbelo's career didn't end the way or when anyone wanted, but he left his mark on Illini basketball.
On a personal note: Curbelo was one of my favorite Illini athletes to cover the few times we actually got to talk to him (and often on Zoom during the pandemic). He was always relaxed, willing to gab and give insight. After what had to be a mentally challenging and draining year, I hope he finds renewed life with a fresh start — because when he's right, boy, is he a joy to watch.
*****
Illinois has shown interest in Temple transfer Jeremiah Williams, CBS Sports' Jon Rothstein reports. A Chicago Simeon graduate, Williams — a 6-foot-5 guard — as a sophomore at Temple started 21 of 22 games he played averaged 9.5 points, 4.3 assists, 3.5 rebounds and 1.4 steals while shooting 41.7 percent from the field and 23.1% from three. Williams started 37 of 38 games during his Temple career.
Rothstein reports that Iowa State, Georgia, Ole Miss, Xavier, BYU, DePaul, Vanderbilt, Cincinnati, SMU, Loyola-Chicago, Clemson and Stanford also have shown interest.
What it means: Williams joins a growing list of big transfer guards Illinois in which Illinois has shown interest, including Texas Tech's Terrence Shannon Jr., LSU guard Brandon Murray and Illinois State guard Antonio Reeves. With Andre Curbelo in the transfer portal and Trent Frazier and Alfonso Plummer out of eligibility, the Illini must replace its entire backcourt and want to add some experience alongside incoming freshmen Jayden Epps and Sencire Harris. Illinois also is in serious contention for five-star guard Skyy Clark, a former Kentucky signee.
*****
Andre Curbelo is the biggest Big Ten name to enter the transfer portal so far — but he is one of many Big Ten players to enter the portal during the last week. Here are all of the Big Ten players to enter the portal so far.
Big Ten transfer rankings (EvanMiya.com national transfer rankings)
Reported Illini targets in EvanMiya.com transfer rankings
*****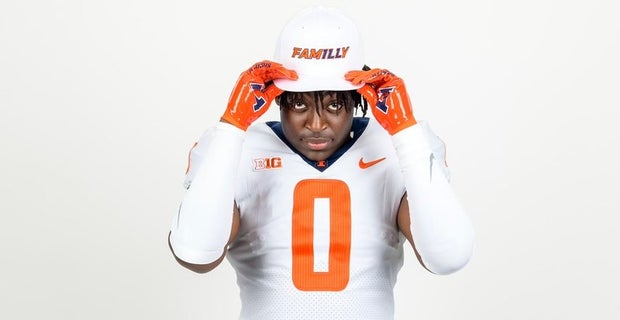 East St. Louis three-star linebacker Antwon Hayden tweeted on Monday that he will announce a commitment at 11 a.m. Tuesday. The No. 14 in-state prospect in the Class of 2023, Hayden just took an unofficial visit to Illinois, his lone power-five offer. Illinois coach Bret Bielema on Sunday teased a commitment via his Twitter page, and no other Illini target has since committed.
Hayden is the No. 689-ranked player in the country, according to the 247Sports Composite Rankings and the No. 14-ranked player in the state of Illinois.

 

As a junior, Hayden had 117 tackles and five sacks and helped East St. Louis advance to the Class 6A state title game, losing to Cary Grove 37-36.
Crystal Ball: Illinois has all three Crystal Ball picks for Hayden.
What it means: Hayden would give Illinois two commitments from top-15 in-state prospects in a week. Four-star Atwood (Ill.) running back Kaden Feagin committed to Illinois last Wednesday. Hayden also would reconnect Illinois with state powerhouse East St. Louis. The Illini, which has been home to former ESL stars Dana Howard, Terry Hawthorne, Kendrick Jones and Stanley Green, haven't signed a Flyers prospect since James Knight in 2017.
*****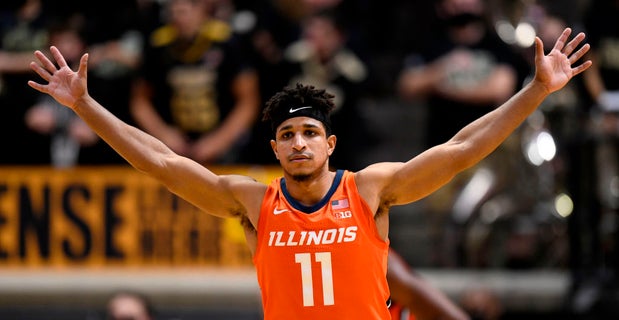 Illinois guard Alfonso Plummer was one of eight players selected to the TaxAct Men's 3-Point Championship roster for the 33rd annual State Farm College Slam Dunk & 3-Point Championships, which takes place on 8 p.m. CT Thursday at Xavier University of Louisiana's Convocation Center live on ESPN.
Plummer led the Big Ten and ranked 22nd in the NCAA in 3-pointers this season, draining 98 in 33 games (3.0 avg). He was second in the conference and 25th nationally in 3-point percentage, shooting 40.8% (98-240). Plummer tied the school record for 3-pointers in a game with eight treys against Ohio State on Feb. 24 at State Farm Center, and he set another UI record by making five or more threes in nine games.

Plummer's total of 98 triples ranks third on the Illinois all-time single-season list. He averaged 14.6 points in his lone season in Champaign, helping lead the Illini to the Big Ten championship while garnering third-team all-league accolades.
*****
The Illinois baseball team is set to travel to Sauget (Ill.) for a Tuesday night matchup with Missouri beginning at 6 p.m. CT. Illinois is coming off their first Big Ten series of the season in which the Illini took two of three games from Michigan State.
Illinois is 14-14-1 all time against Missouri, and the Illini won the last matchup with the Tigers in 2017 in Sauget. Illinois has won three straight Braggin' Rights games.
*****
*****