Ukraine Crisis Live News, Russia- Ukraine Today News, Russia Ukraine War News, Ukraine Crisis News, Russia Ukraine news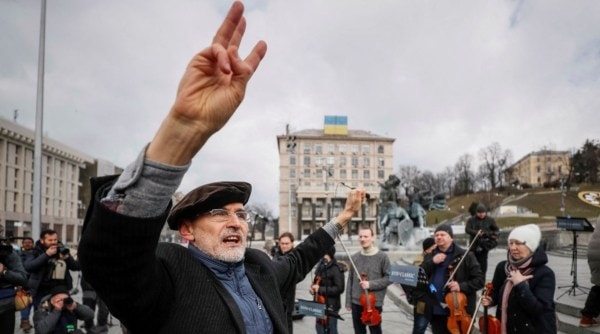 Conductor Herman Makarenko performs during an open-air concert named "Free Sky" at Independence Square in central Kyiv, Ukraine March 9, 2022. REUTERS/Gleb Garanich
A Letter From Lviv: 'We will win because we can't lose'
Named after one of Ukraine's most famous movie and theatre directors, the Les Kurbas Academic Theatre is housed in a beige five-storey building, which looks less baroque than the rest of Lviv. Closer than 300 metres from the city centre, it has suspended its programmes to provide shelter to Ukrainians fleeing the war launched by Russia, now on for more than a month.
Founded in the 13th century, Lviv was named by the King of Ruthenia after his son Lev, which meant lion. Which is why it is called the Lion City locally. Now, a month into the war, as Russia destroys Ukrainian cities, Lviv, which has been largely untouched so far, despite three explosions on the outskirts on Saturday, has become the world's entry point into the country.
Missiles shatter Lviv calm, and an opera
A safe haven providing passage for people seeking to enter or leave Ukraine, the city of Lviv was jolted out of its lull on Saturday afternoon as at least five Russian missiles struck just east of the city, leaving five people wounded.
The first of the blasts hit around 4.45 pm, minutes after a public opera performance on in front of the Lviv National Academic Opera and Ballet Theatre and featuring a singer from Kharkiv – the city that has been at the receiving end of Russian invasion – was cut short by air sirens.